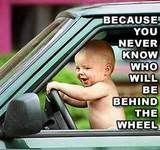 If your family is like ours, summer time means more time on the road. Whether its extra trips across town or an out of state vacation, you want to keep your family safe. For us safety on the road means:
* Always wearing your safety belt. Our children ALWAYS are in their safety seats and are quick to point out to everyone in the vehicle "Safety First, Safety First!" That's their code for put your seatbelt on! Teach your children from the earliest age, and it will be a GOOD habit for life!
* Because you are all always wearing your seatbelt, keep a pair of scissors in the car. In the event of an accident, a pair of scissors will help you cut any seatbelts or child restraints that may get stuck. You don't want to be stuck in your seat unable to get to your children and you don't want them to be traumatized by being stuck in theirs. This simple step will mean a lot if its ever needed.
* Secure belongings. Items rolling around in the van, especially under the drivers feet, are a huge distraction! Our family practically lives in our van but I try to quickly eyeball the floorboards before I begin driving. Our children are allowed minimal items in the car. Maybe 1 toy for short trips across town and when we take a long trip they are allowed a backpack but must reasonably keep things neat. When we make pitstops we have them reload everything they've taken out back into the backpacks. This way there aren't arguments and tears over lost items or distraction from items jostling around.
* Before leaving, check your tires. No need to check the pressure or get dirty, just walk around and take a glance at all 4. Make this a habit so you are not surprised by a low tire. Many accidents are caused by flat tires and blowouts. While you can't predict them all, a quick safety sweep is well worth while.
* Watch your gas tank. With rising prices and groans at the pump, sometimes it's painful to buy a full tank! Especially if you are a mom alone with your kids, running out of gas isn't just inconvenient, it can be hazardous! Each time you get in your car, glance at the gas gauge and make sure you don't need to stop at the station.
* Don't wear headphones while driving. It's tempting (I know!) to drown out the kids with your IPOD but it's dangerous and illegal in most states. To be truly safe while driving, you need the whole picture and that includes the sounds around you!
*NEVER TEXT AND DRIVE! This should be a no brainer but it's so tempting to read an email or send a text while you are driving. DON'T! It isn't worth it. If something needs to be answered right away, pull over and take care of it. You're carrying precious cargo and that text isn't worth putting them in harm's way!
* Keep a first aid kit in the car. With coupons I've gotten a couple of mini kits for nearly free. With children, it's vital to at least have some bandaids and first aid wipes on hand. They are often getting scrapes and cuts and waiting to get home or elsewhere could allow infection to set in. Your mini first aid kit will fit nicely in the glove box with your scissors!
* Keep your vehicle "first aid" kit available too. Car kits typically have jumper cables, flares, a flashlight, and other items available in case of emergency. They can be purchased at your nearest WalMart or Target for about $20. These kits can be stashed away under the seat or in the trunk because you will probably never need it. However if you ever do need one of the items, you'll be glad to have it on hand!
* In the south it gets hot and when summertime arrives we always begin to see news stories about children left in cars. Sweltering heat often leads to death when children are locked into closed cars. It seems like a no brainer but we all can get distracted with other thoughts. ALWAYS check your backseat when you get out. You may think your child is with your husband or the babysitter but just make sure! Even on vacation it's easy to fall out of our normal routines and just jump out ready to see the next site! I've heard of ladies leaving their purses or wallets in the back just as a reminder to look before you get out. Children often doze off in the car and wouldn't know they were being left behind. That's one saftey tip we NEVER want to forget!
Safelite AutoGlass wants you to know that your windshield is considered the third most important safety component. Keep in mind:
*Think you can ignore a chip in your windshield? Think again! The windshield provides up to 30% of your vehicles structural integrity, and a chip smaller than 6 inches (or the size of a dollar bill) can easily be repaired by filling it with a special resin.
*A chip could turn into a crack at any time, often when you are least expecting it. Windshield repair is often a safe and economical alternative to a full windshield replacement.
*Scheduling a windshield chip repair is easy! Companies like Safelite AutoGlass provide mobile service – wherever your car is – often within 24 hours of your initial call.
Safelite AutoGlass brings you peace of mind by emailing you a Technician Profile before your appointment, showing you a photograph and credentials of the technician coming to your home or place of business.
Keep SAFE and enjoy the summer with all these simple tips!
I wrote this blog post while participating in the SocialMoms and Safelite blogging program, for a gift card worth $30. For more information on how you can participate, click
here
.