Our family loves audiobooks, and they are a great way to sneak in learning. One of our new favorites is the audio drama
In Freedom's Cause
from
Heirloom Audio Productions
. This is the real story of William Wallace and Sir Robert the Bruce as they led the battle for Scotland's independence. This exciting story really draws the listener into the historical events that unfolded as Scotland struggled to break free from English rule. This isn't just the reading of a book on disc, it is a radio theater production with voices, sound effects, and more. I received the
In Freedom's Cause Single Package
which includes the
In Freedom's Cause
2 disc CD,
In Freedom's Cause
Study Guide,
In Freedom's Cause
soundtrack (MP3 download), and a printable copy of The Prayer of William Wallace.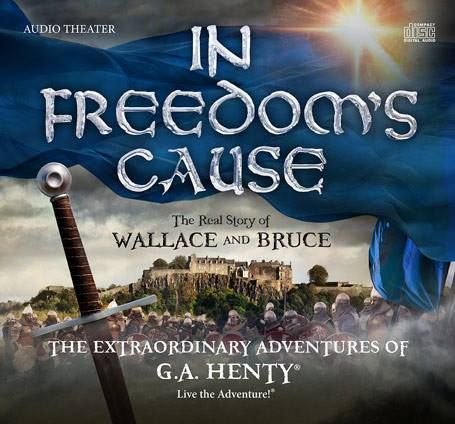 The quality of the production is so impressive. The voices come from actors like Billy Boyd (Lord of the Rings), Joanne Froggatt (Downton Abbey), and Skander Keynes (Chronicles of Narnia). These terrific actors really brought life to the story. The story comes from G.A. Henty and the great musical score is from John Campbell. The music really adds to the drama and anticipation of the story. My kids were so wrapped up in this history of Wallace and the other characters. Speedy did ask why we needed to learn about Scottish history since we are American. I was able to relate it back to America fighting for independence from England as well. Both kids were really able to follow along with the story and have already asked to listen to it a second time.
While I think just listening to fascinating history like this is educational, I like to ask the kids questions to make sure they are really digesting the information presented. We talk about the audio stories we listen to whether they are fiction or nonfiction. With this 2 disc CD, I was given some special downloads as part of the review package. I received the components of the single package as well as access to a full download of the audio drama, a printable cast poster, and an In Freedom's Cause ebook. The 49 page study and discussion guide was particularly useful. The study guide included some terrific extra information as well as questions to ask. There are "Listening Well" questions for comprehension, "Thinking Further" questions for reasoning, and even vocabulary words. We do our audio book listening in the car, so I spent time reading ahead and looking at questions on the study guide before we listened to the disc. The study guide is insightful and contains questions to fit different levels of thinking. It was great to have questions ready to go since I usually have to think of them myself!
"It is very interesting and funny", says Speedy.
Apple says, "I LOVE IT!"
Like most families, we spend a lot of time in the car. We find that many radio stations don't reflect our values so audio books have become a staple for our family. With at least a 20 minute drive to most of our destinations, we have listened to quite a few. I can easily say this Christian audio drama has been one of our very favorites. I personally love the historical aspect and educational aspects while the kids really enjoyed the action and adventure of the story. This is a great package for homeschooling families or anyone that loves an exciting escapade. This is one of those wonderful tools that will get your children interested in history and they won't even realize they are learning while they are listening.
Connect through social media:
Facebook:
https://www.facebook.com/InFreedomsCause
Twitter:
https://twitter.com/InFreedomsCause
Google+: >
https://plus.google.com/u/0/b/112701427096792421838/112701427096792421838/posts
Pinterest:
http://www.pinterest.com/jointhecause
See more reviews of In Freedom's Cause:

The next audio drama from Heirloom Audio Productions will be With Lee in Virginia.
To stay connected and for more information: