Educating our children involves so many personal choices, and parents must decide what is best for their family. Great Commission Films movie IndoctriNation is a great place to start for any family that is considering home education. We never thought we would home school, but it is what we feel called to do and we evaluate and pray about our decision constantly. I'm happy to do this review for the Schoolhouse Review Crew because I think this movie gives some great reminders about the issues in the public school systems.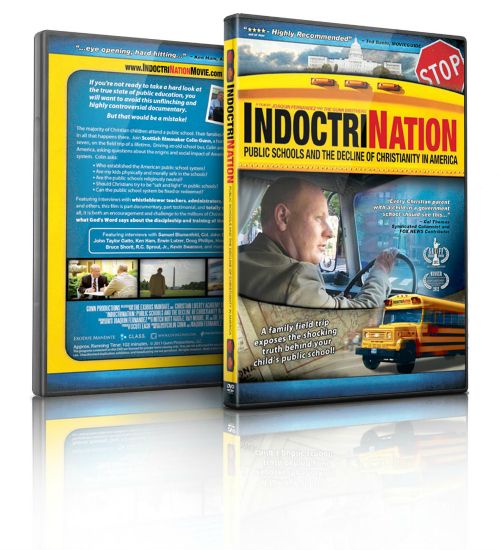 IndoctriNation is an in-depth look at public schools in the United States. Colin Gunn and his family loaded up in a big yellow bus and traveled the roads of America for 3 weeks to learn more about the American school system. Colin (who was born in Scotland) and his wife homeschool their 7 children. The film explores bullying, sex education, abuse by authority figures, teen pregnancy, drugs in schools, and other issues. The statistics are staggering in each of those areas. The movie takes time to look particularly at the struggle of Christian children and Christian teachers in the public schools.
My husband and I spent time watching this movie together. The DVD contains the 102 minute film and some extra features like deleted scenes. An interesting topic addressed by Gunn is whether our children should be in the school as missionaries or "salt and light" to unchurched kids. This movie takes the time to make specific points about why this doesn't work. Teachers and kids in the school system that attempt to bring their faith to school with them are often shut down or shut out. For students, it is often too difficult to remain in the minority as a practicing Christian in a public school. Especially for young children, I think this is an unrealistic expectation for them to find a way to live out their beliefs in the midst of reading and math. This film interviews some teachers and school officials who have tried to go into the public schools with their faith. They have some interesting stories they share about the difficulties they have faced.
This movie serves as a great reminder for us. Our reasons for homeschooling are numerous but some of the top reasons are addressed in IndoctriNation. We want to be the ones to raise up our kids. We want to be the adults spending the most time with them each day. We want them to understand our beliefs and our history and why we believe the way we do. We feel strongly that God directs us to raise up our children and for us, for our family, that includes home education. We spend a big portion of our school time talking about God. We focus on character and morals. I feel like our kids have a much better chance to be strong in their own beliefs if we are able to foster them at home through childhood, the tween years, and the teens.
In this age of Common Core, many parents are questioning the public school system. If you have considered homeschooling your children, if you currently homeschool and are considering returning your children to public school, or if you know someone that is thinking of taking the homeschool journey, I think IndoctriNation could be beneficial for you. I even recommend it to my friends who have kids in public school and don't intend to remove them. It's a good idea to watch it and see what your child may be facing in school that you haven't even thought about. Schools are not the same as they were when I attended public school. Whether you have children in public school or not, I hope you pray for your local schools, school leaders, and students. They are a part of our community even if we are not directly involved with them.
You can find out more about IndoctriNation on social media:
Facebook:
https://www.facebook.com/IndoctriNationMovie
Twitter:
https://twitter.com/indocmovie
Vimeo:
http://vimeo.com/indoctrination
YouTube:
https://www.youtube.com/user/IndoctriNationMovie
Take the time to read reviews from other members of the Crew: