I am so excited to tell you all about
Spelling You See
. We were sent
Level G
:
Modern Milestones
to review for the Crew. I requested this from the two newest levels available after Apple took the Skills Assessment available online. The passages in this level focus on people in history who made an impact in areas like science and music (which are 2 of her favorite things!).

With
Modern Milestones
, there is a short instructor's handbook that includes each lesson's passages and an answer key. This level also includes a pronunciation key for the names. Big help! The student pages are divided into 2 workbooks. The student pack also includes a package of erasable coloring pencils (the thing Apple was most excited to receive). This level contains 36 passages. Each passage has 5 activities to go along with it. The "A" page introduces the passage and has the student read it aloud. Then, they write the passage on an included page. "B" is a repeat of "A". "C" gives them the chance to read the passage aloud and fill in some blanks working with changing suffixes and prefixes. "D" and "E" are an opportunity to read the passage and then write it by dictation. Every day the student uses the colored pencils to mark specific base words,suffixes, and prefixes in the passage.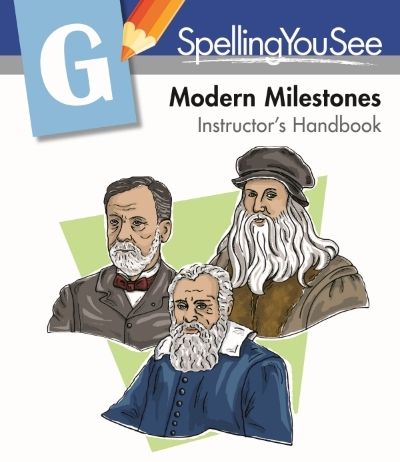 Apple finished 1 lesson each week. She would do 1 page a day and then add in an extra page on Wednesday or Thursday (just depending on the week), because we do not do seat work on Fridays. It was very easy for her to complete the 5 activities in 4 days. The lessons do not take much time at all which is a bonus in a subject like spelling. She loves that there are no tests in this curriculum! It really seems so easy to just use words over and over to learn them but it makes sense, right? We really learn things (some of us anyway) by repetitive use. Apple struggles with repetition and "busywork" but this doesn't feel like that at all. She knows a new passage will come the following week so she's content to repeat the passage daily. I think she also enjoys the confidence she feels about the passage by the last dictation exercise.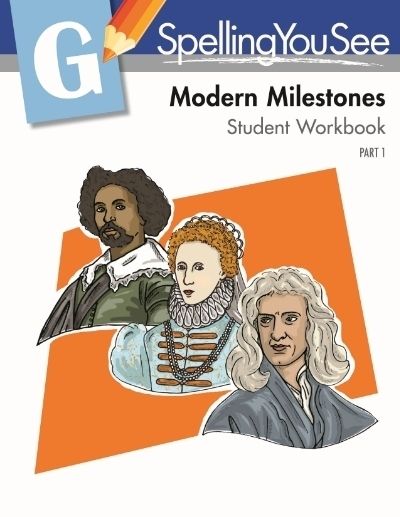 She is delighted to learn about people like Copernicus and Botticelli. We have even looked up extra information on some of the people from her passages. She is especially interested in looking up the artwork of the various artists mentioned. I love it when a lesson gets her curious enough to do extra research on her own!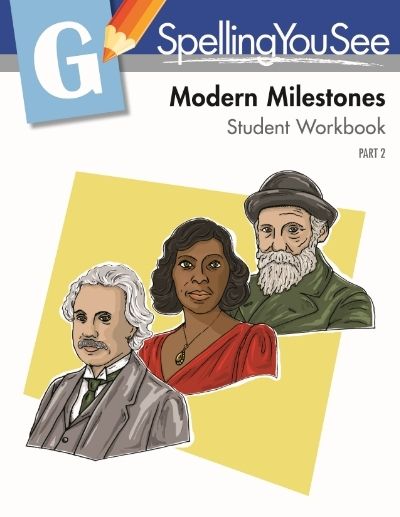 Spelling You See
is meeting 2 huge needs for us.
1. It isn't a rote spelling curriculum. My kids were both so over the spelling curriculums with a list and a few activities and then a quiz. One is so far ahead on reading level that any words we tried were too easy. The other one was just learning the words for the quiz but wasn't memorizing them to use in regular writing correctly. With
Spelling You See
, they are reading the words daily, speaking the words daily, and writing them daily in context so they really seem to be committing the words to memory. Plus, it is a whole passage and not a list of words so they don't seem to stress over it as much.
2. It is a whole passage that they write all week. My kids need lots of help with their handwriting. I've stressed handwriting and tried many different methods to get them to improve their printing to no avail. I've tried so many different kinds of copywork, but they buck at the idea of copywork. Writing these passages daily really is copywork, but they don't see it that way. The passages are interesting and the book says "spelling" so they don't even associate it as handwriting practice. Score!
If you've noticed I said "kids", I was immediately so impressed with the method of
Spelling You See
that I ordered a level for Speedy. My plan was to use it for him in the fall, but he was so excited to get his own that we started it early! He has struggled with spelling in his writing, so I can't wait to see the results! I'm happy we have been able to get a jumpstart on this spelling curriculum that we will use in the fall for both kids.
Spelling You See
is very affordable for a full year's curriculum. The Instructor's Handbook also came with a code for additional online resources for the teacher like helpful videos so make sure to look for that code on the wrapper if you order a set!
See what other Crew members thought about
Spelling You See Level F: Ancient Achievements
and
Level G: Modern Milestones
:

Connect on Social Media:
Facebook:
https://www.facebook.com/SpellingYouSee
G+:
https://plus.google.com/+SpellingYouSeePage/posts
Twitter:
http://twitter.com/SpellingYouSee
Pinterest:
http://www.pinterest.com/SpellingYouSee/