So the big portion of this package is the writing curriculum. It is so much more than just a curriculum though. As I mentioned before, there is a learning seminar for the teacher. Andrew Pudewa is the IEW guy and on the
Teaching Writing: Style and Structure
(TWSS) DVDs, he teaches you to teach your kids. Seminar Notes are included in the deluxe combo so you feel like you are at his live seminar. There are 12 DVDs so you probably won't want to sit down and watch it all as one session. There is a viewing guide on the IEW site to help you correspond your DVDs to the lessons your kids will be doing. I may have scoffed at the idea of watching my own videos but this seminar is fantastic! I have learned so much already and it really helps me "speak the language" with my kids. Plus Andrew Pudewa is a funny guy!
The second half of the writing intensive is for the students. They get their own DVDs to watch along with a notebook of handouts and lesson plans. This
Student Writing Intensive
program is really broken down to make it simple. There are 9 units and each one is given about 2 weeks of plans. We received Level B (recommended grades 6-8). One of my favorite things about this deluxe package is that everything is included to help you take it down to Level A or up to Level C. IEW is super homeschool family friendly so TWSS is intended to use for all your kids. Apple was our primary user for this but I was able to use some of the downloads included with this package to allow Speedy to work at his own level. The Premium Subscription includes several downloads including streaming video and many extra samples for each unit!
The basic idea is the teacher watches their DVD and then the students watch their own DVD. Then the kids can jump into writing. Both Apple and Speedy willingly (almost happily) did their IEW assignments. They were so excited to use ink pens instead of pencils (a Pudewa suggestion). They did have some questions that I could easily answer since I had watched my portion of the assignment. They work on a unit for about 2 weeks (roughly 2 writing assignments) and then start a new unit. We stuck with our typical 4 day per week schedule. All the extra samples with the premium downloads give plenty of samples for students of different grade levels to use and so this can be used year after year. The price upfront is costly, but when you consider that the program can be used for multiple students over a span of years then it is very reasonable. The IEW suggestion is to go through each of the 9 units once per grade or school year. During our trial, we went through the first few units. This program is so flexible. We could just pick up at the next unit in the fall or we can start over (probably what we will do). I've been really impressed with their enthusiasm and with the writing samples they've turned in. This program just makes sense.
The Portable Walls is a resource for the students. It is basically a break down of each unit. Rather looking at lots of writing posters or taking tons of notes, your student can use this folder style reference. My kids are very visual and both of them love having this at their fingertips. There are also loads of adverb and preposition suggestions. A second resource included in the deluxe combo is A Word Write Now. Think of it as a thesaurus alternative. This fun little resource is geared towards kids. It gives plenty of word substitutes along with tons of other information. There are categories like "Words to Describe Time" and "Words for Smelling". The kids love looking through this book for dress ups.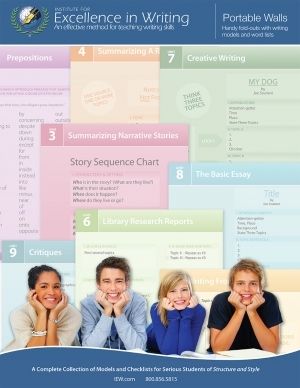 The other portion of this package is
Fix It! Grammar
. Apple hasn't been thrilled with any of the grammar programs we've tried until this one. I opted for levels 1 & 2 for her although I'm sure she could have easily done levels 3 & 4. Since this was a new program I thought it was best for her to start at the beginning. The teacher manual is a physical, spiral bound book for each level. We printed the student book from the website and put it in a 3 ring binder with a spiral notebook. Each week the student has a grammar lesson, and then they have basically 1 sentence to work on each day. The sentence is used to label parts of speech and punctuate. After having it checked, they write the sentence very neatly (yay handwriting!) in their notebook. In the back of the notebook, they keep a vocabulary list that they add to each day. This seems so overly simple, but it is practice, practice, practice. The daily sentences are part of a larger story that they are writing in their notebook. Apple loves it! The story keeps her interested and she doesn't feel overwhelmed with a whole page of sentences to work on. Level 1 is named "The Nose Tree" so she can't wait to find out where the story leads. IEW is all about keeping language arts fun and interesting for the kids. It is Level 1 so it is beginning with the basics like nouns and articles. You can also purchase this Deluxe Combo Level B with Fix It! Grammar 3 & 4. Speedy is still using the grammar program we previously had although I think he would enjoy this as well. Fix It! Grammar can also be purchased separately.
I could spend all day telling you all about IEW. If you are interested in learning more, I'd suggest their Structure and Style Overview DVD. It came with my package, but I also had a copy I got last year. This DVD is a snippet of the teacher seminar with an overview of all 9 units. I had already started incorporating some of those ideas before we received our Deluxe Combo. It would be a great way for you to decide if you think this program would work for your kids or classroom.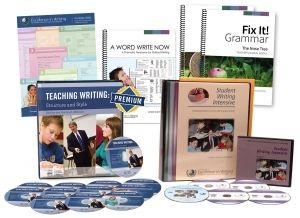 This program is huge and so much better than I expected it to be. I love organization and this package is well put together. All my downloads are safely on my computer (and saved in my IEW account online for a year), my Teaching Writing: Structure and Style notebook and the Student Writing Intensive notebook are neatly put together, and the Fix It! Grammar Level 1 is printed and in order. I felt intimidated by it all at first but once I dug in it all made sense. The downloads also include 2 mp3 talks that are helpful in understanding the IEW concept. In summary, I would recommend this to EVERYONE. All of you. It is that good. Most programs I think would work best based on teacher/ student personality, but I can't think of anyone who wouldn't benefit from IEW.
Want to learn more about products from Institute for Excellence in Writing? Check out these other Crew reviews:

Connect with IEW on social media:
https://www.facebook.com/excellenceinwriting
https://www.pinterest.com/iewriting
http://vimeo.com/iewtv
https://twitter.com/iew
https://www.youtube.com/user/iewtv
http://iew.com/help-support/blog
https://plus.google.com/+Iewriting/