We love to play games at our house so we were super excited when
USAopoly
sent us two fun, educational games to review for the Crew.
Wonky: The Crazy Cubes Card Game
and
Tapple: Fast Word Fun for Everyone
are both great for the whole family. These games are easy to learn and neither take a long time to play.
The kids picked Tapple to play first. With this game, you get a wheel of letters that has a timer button in the middle. There are cards to go with the game that have categories on them. We went with the easy categories to start. When a card is selected, the race is on! Each player takes a turn saying a word for the category and then tapping the letter that begins that word. The trick is to pick a letter that hasn't already been used and to do it before the time runs out! This game invoked lots of yells and laughter. The winner for each round keeps that card and the ultimate winner of the game is the one to collect 3 cards first.
I couldn't believe some of the great words my kids used while we played. It was great practice for using their large vocabularies and remembering which letter begins each word. We have played this game several times during the review period. Not only have we played it as a family, but Apple and Speedy have played it alone a few times. They have also been sharing the game with neighborhood kids that come over to play. I love that they are finding so much enjoyment in a wholesome game that doesn't involve a screen!
"Tapple was a very fun game that makes you exercise your brain as well as your reflexes,"
said Hubby who enjoyed the game as much as we did!
Wonky is an even crazier game! This game comes with 9 wonky blocks with uneven edges. There are 54 cards with instructions on them. Each player is dealt 7 cards and the goal is to use all your cards. The cards tell the player which block they can play either by color, size, or both. Some cards have special instructions like reverse and pass. That adds an extra element of strategy to this stacking game. As you try to stack the blocks, the tower gets crazy! It takes a steady hand and a bit of planning to win this game. Wonky definitely made the kids slow down and try to think about the blocks they were going to stack. I was happy to see them playing a game that involved some thinking. As we played many giggles were heard.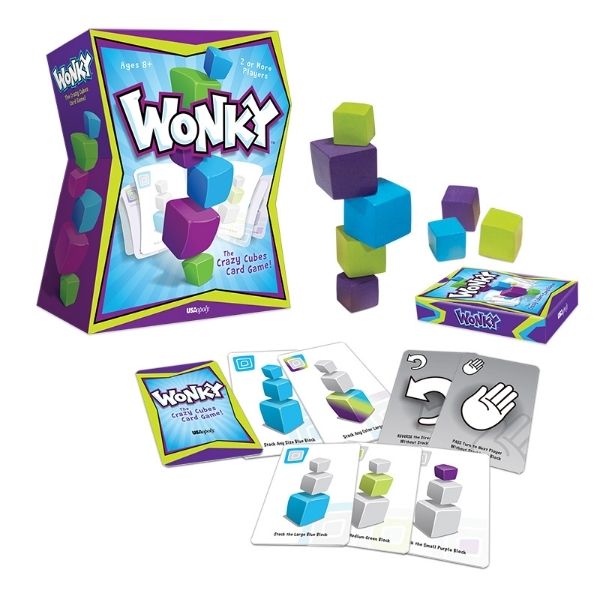 This is another game that the kids shared with friends. They were playing both of these games with company we had over for a cookout on Labor Day. All the kids seemed interested in these games because they are new and so easy to learn. There aren't long instructions for either game. The rules are short and easy to follow.
The Tapple game houses the cards inside the main wheel so it is easy to keep the whole game together. Wonky comes with a purple bag to hold all the playing pieces. It's like USAopoly knows my kids love to lose important game pieces! Seriously though both games easily fit into the cabinet where we keep all our card and board games. The kids love having games in there that I will allow them to play during or right after our homeschool time. Both of these games fit into the category!
Tapple and Wonky are recommended for players age 8+. Tapple requires 2 AA batteries for the timer. Other than that both games are ready to go when they are opened. It took less than 5 minutes for us to learn how to play each game. Tapple can be played by 2-8 players and Wonky is for 2+ players. Both games are entertaining and hold some educational value. My 8 and 10 year old both found plenty of amusement in both games, and I know these are 2 they will continue to play. With colder weather coming I'm glad we have these in the game cabinet!
During the holidays, we tend to play lots of games at family gatherings. I will be bringing these games along because the kids can play them without adult assistance. Does your family play games during the holidays?
Connect on Social Media:
Twitter
https://twitter.com/USAopoly
Instagram
https://instagram.com/usaopoly/
Facebook
https://www.facebook.com/usaopoly
Pinterest
https://www.pinterest.com/usaopoly/
See what other Crew members thought about Wonky and Tapple: