When we got the opportunity to review a course from
Middlebury Interactive Languages
, I let Speedy pick which language he'd like to try. I was so surprised when he asked for
German Language Courses
! We received a 6 month course for
Elementary German 1: Grades 3-5
.

Middlebury Interactive Languages are online courses so that your child can learn a new language at home. Your access to this course is limited to 6 months. The Elementary German 1 program includes 15 units with 6 lessons each and a review unit. This level begins with common family titles and covers many regularly used words. After completeing this unit, Middlebury Interactive Languages offers an Elementary German 2 course for purchase which is also recommended for grades 3-5.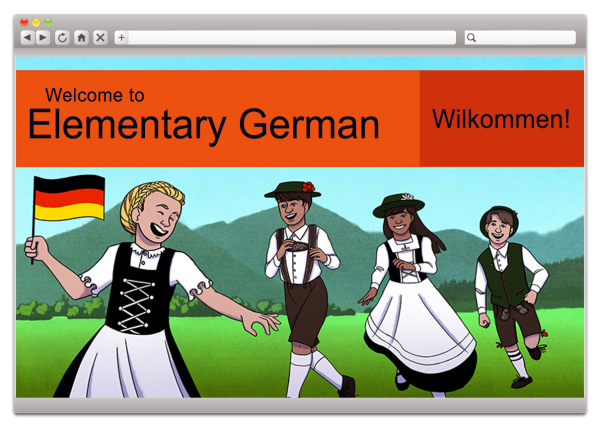 The presentation of the words makes this language course unique. Through fairy tales and repetitive practice, children will learn their German vocabulary quickly. Speedy has had so much fun learning German and regularly asks to do extra lessons. I also hear him using the words he has learned throughout the day so I know he is retaining them beyond his computer study. This is a unique immersion technique that I think works really well for lower elementary students.
This Middlebury Interactive course is very well organized. The Table of Contents tab pulls up a list like the one above. When you click on a folder and then on a unit, there are check marks next to the completed lessons. The calendar tab pulls up a calendar like the one below. The lessons are set on certain dates but you can have your child do them on any day. The calendar layout does make it easy to see which lessons are complete and which lesson is to be completed next. The checkmarks here also indicate completed lessons.
Once they select the lesson, they will be given a screen like the one below. It will show them each part of that day's lesson. They may have a fairy tale, a speaking lab, review, or a quiz. Once they have finished a portion of the lesson, it will turn black & white so they know they have completed it. Little details like the checkmarks and the picture turning black & white make it so easy for even lower elementary students to work through this program independently. This has been a huge plus for Speedy and for me!
There is also a gradebook tab that will pull up a list like the one below and show scores for quizzes and other activities. This is a great way as a parent/ teacher to keep track of the lessons and their success rates. I find this very helpful because Speedy is able to complete this course independently. He doesn't need my help to log on or to find his lesson and complete it. I like to go into the gradebook about once a week to check his progress and make sure he's on track. From the gradebook, you can also view the activity or test and check the problems that were marked incorrect. There is even a place to type in comments on those missed questions.
Another unique feature of this course is the speaking labs. Using a microphone connected to the computer, the student can record and playback their pronunciation of the German words. There is an option for this package with an online teacher. I believe if you select that option then the teacher will grade those speaking labs. We got the package without a teacher so we've just used the labs as a great way for Speedy to listen to himself say the words so he can make corrections as needed.
These online language courses are terrific for homeschoolers. I love that we can pick and choose to do fun things like German whenever we want! Speedy has really enjoyed learning German and has been much more interested in it than I expected him to be. He has taken the initiative to do extra lessons on weekends. He will be very sad when his 16 units are finished!
To plan his German studies, I have him slated to do 1 lesson per day on Mondays, Tuesdays, Wednesdays, and Thursdays. The lessons don't take long to complete. There are approximately 93 lessons total. Since the access to each course is 6 months, a student could easily complete it in that time frame. If you looked at this as a semester long course, our state requires 90 days per semester so it would easily be finished in that time frame if they could double up a few times. If your student enjoys it as much as Speedy, they will be finished early!
Middlebury Interactive Languages also offers courses in Spanish, French, and Chinese. They have courses available for elementary, middle, and high school levels. Most courses are available in level 1 and level 2. The courses are competitively priced for an all inclusive, independent language curriculum.
If you'd like to learn more, connect on social media:
Twitter
https://twitter.com/MiddInteractive
Instagram
https://instagram.com/languageacademy/
Facebook
https://www.facebook.com/pages/Middlebury-Interactive-Languages/141015515949753
Pinterest
https://www.pinterest.com/middinteractive/
Google +
https://plus.google.com/b/110371351490550861545/110371351490550861545/posts
Or see what other Crew members thought of Middlebury Interactive Languages: