We've recently had the opportunity to test out the Standard Deviants Accelerate website for review. SDA offers many Homeschool Courses online. Their courses are intended for 3rd graders and up. They offer a wide variety of classes. Apple has been working on the Nutrition Course for a few weeks now.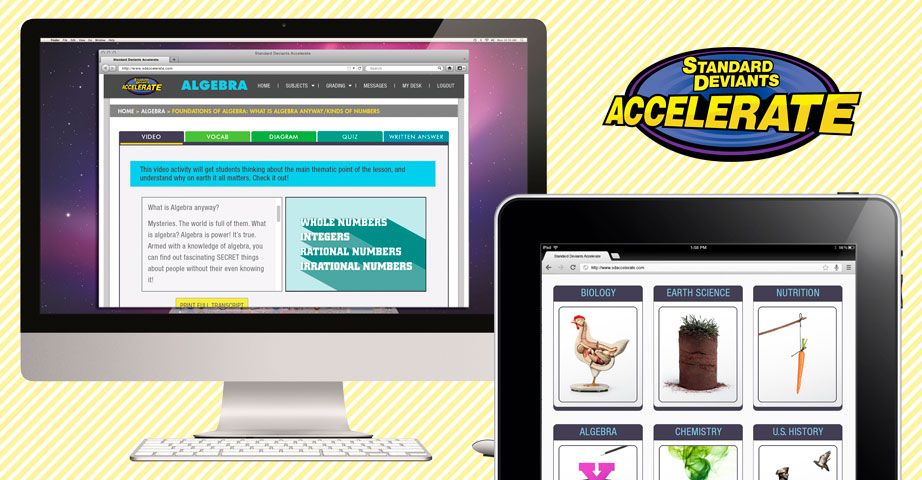 This online nutrition class is recommended for ages 9 and up. She has her own login and password for the program and she's been working through it at her own pace. The course is broken down into 8 chapters with 32 lessons and a review for each chapter. There is also a subject review at the end of the course. This class is teaching her the fundamentals of food and how our body uses food. It goes even further to instruct on nutritional disorders, exercise, and weight management. Apple is in that tween stage when I really want her to understand food and how it works. I don't want her to get caught up in any unhealthy eating habits, but I want her to understand food is fuel for our bodies. SDA provides secular curriculum so it doesn't help her understand how God designed her body and food but we will supplement those beliefs in other subjects.
Apple has really been enjoying this course. She does it everyday during her other online homeschool work. The lessons begin with a video that is 15 minutes or less.
Apple found the videos to be entertaining and informative.
There is a written transcript on the page with the video if they need to look back or reread the information. There is also an area to write notes which they can save to their "locker". Then the lessons have tabs for vocabulary to study, a diagram to complete, a quiz, and a written answer. The quiz is automatically scored by the program so they can see their results right away, and the student can look over their responses and see the correct answer. For the written response, as the teacher you can go into your account and give a grade to your student(s). The program provides a grading rubric to make that process really simple. There are options to change the rubric, but I have used the existing one.
The grading rubric made scoring the answers very easy. I found it a little complicated to go in and find the work that needed to be graded. I was able to find it but it was a little time consuming, and it seems like there could be an easier system. Once I gave the grades, they were figured into the average. This is the first year we have done much school online, and I'm finding I really enjoy the programs that keep up with the grade for me. That's one less thing I have to remember to do!
I also had Speedy dabble in the Arithmetic course designed for grade 3 and up. He is doing double math already so I didn't want to lay another math on him as a requirement. He didn't mind going on and trying a few lessons though. He also enjoyed the videos, and he's asked to take the nutrition course too. Since it is recommended for grades 6 and up, I'm not sure he's ready for it just yet, but I set it up so he can give it a try. The Arithmetic class is very similar to the nutrition course. It is divided into 9 chapters with 23 lessons and a review for each chapter. There's also a subject review to complete at the end of each course. You can see on his dashboard below I also have him set up for the Fundamental Math class. I got confused as to which math was recommended for third grade and which was recommended for fourth grade.
Standard Deviants Accelerate has courses for classes as well as for homeschoolers. There are two different pricing options. You can pay a monthly fee per course for up to 5 students or you can pay a lifetime access fee for all 14 subjects for up to 10 students. The subjects range from those I've mentioned to Chemistry and English Comp for high school to AP courses. It is definitely worth taking the time to look around at the courses they offer. At rates as low as $9.99/ month, it isn't a huge loss if they don't work for your student!
See what other Crew members had to say about SDA:


Connect on Social Media:
Facebook:
https://www.facebook.com/SDAccelerate
Twitter:
https://twitter.com/SDAccelerate
Google+:
https://plus.google.com/+Sdaccelerate/posts
Pinterest:
https://www.pinterest.com/SDAccelerate/