I love to plan, and I love to review planners!
Apologia Educational Ministries
sent me
The Ultimate Homeschool Planner- Yellow Cover
designed by Debra Bell. This beautiful yellow and purple planner made my heart happy! There's just something about that new paper smell with all those lovely boxes to fill in that gives me joy. It doesn't hurt that it's a pretty planner with my favorite color (purple) all over it! If yellow and purple don't tickle your fancy, this homeschool planner is also available in orange or blue.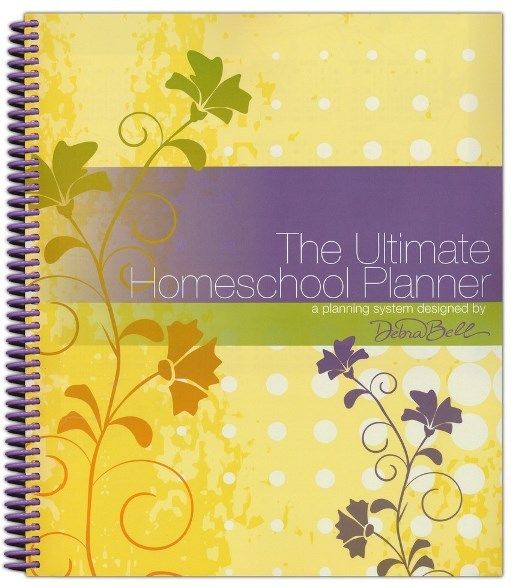 This planner has much to offer any homeschooling parent. When I first received the planner, I opened the cover and immediately noticed a sturdy pocket. There is an identical pocket at the back of the planner. These are great for holding sports schedules, special information, curriculum magazines, coupons, and whatever else you might need to keep close at hand. Sturdy, built in pockets beat paper clips any day!
The first few pages are occupied by calendars. They go from 2015-2016 all the way to 2022-2023. Love! I know those would make some people anxious. I'm the exact opposite. I have to keep fighting the urge to color code the next 6 years... The quote "Order brings Peace", attributed to St. Augustine, graces one of the pages. That should be my life phrase. I just feel unsettled without order.
This planner doesn't leave you to your own devices. An informative guide to planning is included with a suggested schedule to get you going. I've written several blog posts over the years about my method of planning, and they always generate a lot of interest. If you need help planning out your school year goals and starting a focused schedule for your students, this planner will offer you guidance. There are also some inspiring teaching tips included. These articles cover a variety of educating areas. Near that section is a planning guide for 8th to 12 grades. Now that does give me some anxiety! How scary that we are less than 2 years from 8th grade! EEK! Since we are getting that close those planning pages are very relevant for us. I need to look ahead now to determine if Apple is headed in the right direction with her studies.
The meat of this planner includes fill in monthly calendars along with weekly planning pages. There are 12 of the monthly calendars. Since they are fill in and not pre-printed, you can begin using this planner anytime during the year. (Like right now would be a perfect time!) I filled in my monthly calendar and then put in some of the important things we had coming up. After the monthly planner pages, there are weekly planner pages. The first page includes areas for your Bible Plan, Battle Plan with Fighter Verse, Prayers, and Hospitality/ Outreach. The facing page gives areas to write down achievements, memorable moments, and Evidences of Grace. How special these memories will be when our children are all grown up! While this planner definitely focuses on an educational plan for homeschoolers, these little weekly sections ensure that you will set the focus of the week by focusing first on spiritual matters and that you will journal or jot down important memories of this special time you have with your children.
Following each of those pages are 2 facing pages of blank blocks. This is the area where you can plan your children's daily work. The blank blocks give a lot of flexibility to the way you can use these areas. I made a row for each day of the week and designated the columns for specific subjects. Then I used abbreviations to fill in the daily work for each child. As they completed a subject, I drew a line through the block. You could also use checkmarks, highlighters, or colored ink to designate even further. These pages also give areas to write notes, supply needs, and appointments.
There are two pages for recording grades. If there's one thing I'd change about this planner it would be that area. I'd add even more grading pages for daily scores. That's just a personal preference and since there are nifty pockets, I can always make my own grading pages and keep them with the planner. After the grading records pages, there are pages to record reading lists for each student and field trips.
I think this planner is unique because of the focus on family priorities and even character and academic goals. Rather than try to create a place to plan your whole life, this product is very streamlined for the purpose of organizing a homeschool plan and executing it. I think it would work well for a newbie or for a seasoned homeschooling parent. The sturdy covers and pockets make it a winner for me!
See what other Crew members thought about The Ultimate Homeschool Planner:

Connect on Social Media:
Facebook:
https://www.facebook.com/apologiaworld/timeline
Twitter:
https://twitter.com/apologiaworld
Pinterest:
https://www.pinterest.com/apologia/
Google+:
https://plus.google.com/105053356034237782125