This post contains affiliate links.
GrapeVine Studies offers a unique way to incorporate Bible studies for various grades or ages within a family. They were kind enough to send me Old Testament 1: Level 2 Creation to Jacob and Old Testament 1: Level 3 Creation to Jacob teacher's manuals and workbooks for review. These are all digital files and there are 4 levels available this study. I used the teacher's guides directly on the computer and printed out all the pages the kids needed from their respective workbooks.
Each level basically builds a little onto the previous level so Apple had just a little more work to do for each lesson than Speedy did. My kids are fairly familiar with the Old Testament so these studies worked as a review for them. It's been awhile since we focused on memory work so I was pleased to see a good deal of memory verses included in each level. Since my Sunday School class has been reading through the Bible and we started with the Old Testament at the beginning of the year, I didn't have to review too much to be prepared for the lessons. GrapeVine studies offers this chart below to help you know where to begin your family studies.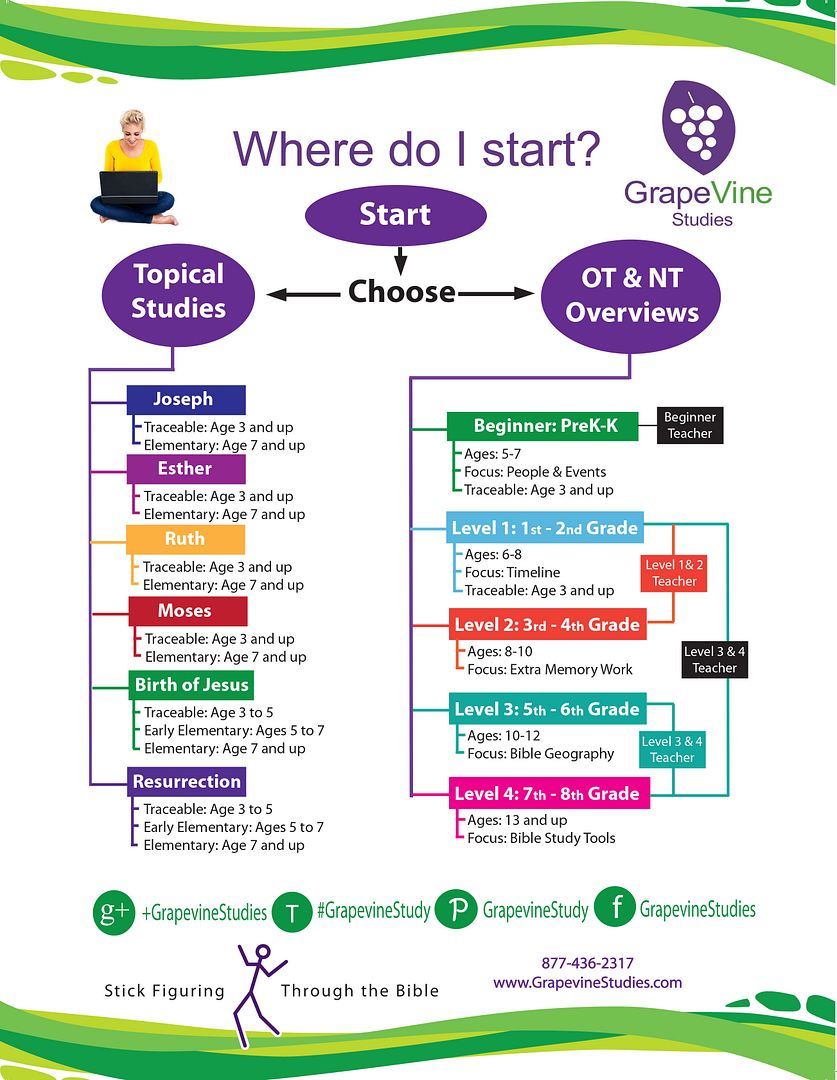 One this I noticed right away is that GrapeVine studies include stick figuring through the Bible. Their premise is that kids will remember more by drawing, hearing, and writing through the lesson. I think it is a great idea! I thought my non-artsy kid might revolt but he did not. Both kids actually enjoyed the stick figuring very much! I am no artist so I'm glad this just required stick figures and not fancy drawings!
The study begins with a timeline lesson. Each student is given a timeline to fill in as you explain each piece. It is recommended that the teacher do the drawings on a white board. After that first lesson, there are 9 regular lessons, a section review in the middle, and then a final review for a total of 12 lessons. There are schedule ideas included to do each lesson in a week (4 days) or weekly. We tried both ways and enjoyed both ways. For us it made more sense to do it based on the other things we had going that week. On busy weeks we did it all in one class and on slower weeks we spread it out into 4 days. The kids didn't have a preference.
A regular level 2 lesson includes:
*Timeline Review
*Memory Verse Review
*Places to draw or stick figure the lesson
*Lesson review questions
*New Memory Verse and drawing space
Level 2 also gives extra information to memorize like the first few books of the Bible and that the Old Testament was originally written in Hebrew. Level 2 has been just right for Speedy. He has enjoyed the pace of the work and he's learning more about the Old Testament than he usually does in Sunday School.
Level 3 includes all the same parts to the lesson as level 2 but there are more memory verses. There is also some mapwork for this level. This GrapeVine study has also been great for Apple. She possibly could have moved on up to Level 4 just based on her Biblical knowledge but this has been a great refresher course for her.
This study gives lots of freedom to the teacher. As I mentioned before this is the perfect series to be a Bible class for multiple grades. We do Bible all together and this has made it a breeze because each one has their own work but the lesson is the same. Speaking of the lesson, this course leaves a majority of the lesson up to the teacher. You can simply read the verses or you can relate the stories to real life. It's basically up to you to decide how much or how little you'd like to do. You can do something different with it every lesson if you want! There are some discussion notes in the teacher's manual to keep the students on track for their reviews. It is recommended that you draw examples on the white board as you go through the lesson. Colored pencils are recommended for the students to do their drawings but you can see my kids preferred to use markers.
I really like many aspects of this Creation to Jacob study. It is a solid way of studying the Bible. We've done a variety of devotionals, Christian living books for kids, and some apologetics over the years. I think this is the best study of the Word that we've used during homeschool other than some studies we did all on our own. Drawing their own visuals is a great way to help them connect to the story and make it memorable. It is also new which helps them both focus on stories that they've heard over and over. I think it is also a big plus that this is a relatively short study. It can easily be completed in 12 weeks or less. GrapeVine offers several other multi-level choices and I'm interested in doing more in the future with my kiddos.
See which Grapevine Studies other Crew members reviewed:

Connect on Social Media:
Facebook:
https://www.facebook.com/GrapevineStudies
Twitter:
https://twitter.com/grapevinestudy
Pinterest:
https://www.pinterest.com/grapevinestudy/
Google+:
https://plus.google.com/u/0/+Grapevinestudies/posts
Periscope: @Grapevine Studies

This post contains affiliate links.