My children have loved products from
The Critical Thinking Co.
through our whole homeschool journey. Apple was super excited to receive
The Basics of Critical Thinking
for review. This 146 page workbook is recommended for grades 4-9. It is an introduction to logical thinking.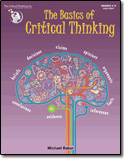 The workbook begins with a Critical Thinking pretest. It gives clues from from witness statements to try to determine which choice is likely a dog thief. The workbook ends with a similar Critical Thinking posttest. While Apple was able to successfully complete the pretest, there was plenty of information she needed to learn between the two tests.
The lessons cover finding evidence, evaluating evidence, facts vs opinions, advertising, common errors in reasoning, and more. I've always enjoyed products from The Critical Thinking Co. because they really encourage logical thinking. This workbook takes that a step further and really explores methods of using the knowledge they have about a situation to come to a conclusion.
The book covers 20 lessons with activities that take only a few minutes each to complete. You could schedule about one lesson per week and finish up in a semester. Apple plowed through all 20 lessons and both tests in the few weeks we've had it for review. She enjoyed the lessons, and I just let her move at her own pace. She's always seen Critical Thinking workbooks as fun and not as work so it didn't surprise me that she opted to do a couple of lessons at a time.
"I liked the Basics of Critical Thinking book because it was challenging and helped you learn things. It also helped with handwriting and English because it required full sentences for the answers. I really liked the pages that gave you pictures and evidence to find the right person. I thought it was very interesting," said Apple.
Children are great at taking the easy path. My kids will often ask questions when they should really be working on finding the answer on their own. While I encourage them to ask me for help when they need it, I want them to understand and use the process of finding their own answers when possible. I think the lessons in this book really assist in that process. I also think it did a great job of reinforcing what I've tried to teach the kids about advertising and reasoning. While these weren't new concepts for Apple, it is always good to continually have conversations and lessons about making good choices and using solid reasoning.
Now that she is getting older, she is making some choices and decisions on her own. We try to let her choose how to spend her own money and we ask for her input when considering extracurricular activities and some social plans. The section on ads will hopefully help her wisely consider advertising methods before spending money. There is also a lesson on agreements and contracts that I thought was beneficial for her age range. As she gets closer to the age for babysitting or selling homemade goods, she needs to be able to logically consider how to set prices and understand expectations. While this workbook gives just a small taste of each lesson, it is starting her on a path for making wise decisions in the future.
The Critical Thinking Co. offers a variety of workbooks and resources on logical thinking, math, history, and more for grades PreK-12th. I've always found their prices to be very reasonable. In the past, we've enjoyed Editor In Chief and Mind Benders. The Basics of Critical Thinking was another success for us!
See what other Crew members reviewed for The Critical Thinking Co.:

Connect on Social Media:
https://www.facebook.com/TheCriticalThinkingCo
https://plus.google.com/114500823774999703181
https://twitter.com/criticalthinks
https://www.pinterest.com/source/criticalthinking.com/