We've used cooking to practice following instructions and to work on math but never to learn history until we received Eat Your U.S. History Homework from Ann McCallum Books to review. This hard cover book includes 48 pages of history fun. It gives recipes to go along with early American history lessons. Each recipe has its own little history lesson to read and they are all accompanied by humorous illustrations.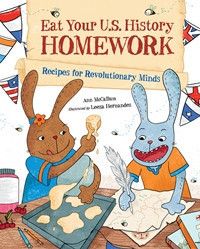 The recipes use common ingredients and are made just for your tiny chefs. Both of my children love helping in the kitchen so I knew this would be a fun review for us. I let Apple pick the recipe she wanted to try first. She selected Southern Plantation Hoe Cakes. She spends quite a bit of time cooking so she could have easily accomplished these all on her own. I needed pictures so she graciously allowed me to hang out in the kitchen with her. She made them for dinner and we had sausage and eggs to go along with them.
She followed the recipe and took out the 8 ingredients she needed while the griddle warmed up. She mixed it all up on her own and then cooked them.
They turned out just right! She always feel such a sense of accomplishment when she successfully prepares a meal for us. She read the history lesson aloud while I finished up some other items for our meal. The family all enjoyed the hoe cakes! They were not sweet like pancakes but made for a tasty addition to our brinner.
Speedy wanted a chance to try a recipe too. He selected Revolutionary Honey-Jumble Cookies. This cookie recipe uses ingredients you've probably got around the house right now. The process was pretty simple and it was a chance to learn some history and some home economics!
First we gathered all 8 ingredients. The little chef read the instructions and helped with the measuring.
Then he used the mixer for the first time and combined them all. The dough went into the fridge for 10 minutes then we pulled them out to make our cookie balls. Speedy opted to take the job of flattening them with a glass.
Big sister stepped in to help put them into the oven. The recipe made about 17 cookies, but we made them fairly large. These would be easy to make smaller for a larger quantity.
He was pleased with the results!
We all were! These were some easy to make, very tasty cookies! There was a small discrepancy in this recipe. A couple of the ingredients didn't make it into the step by step instructions. We figured it out easily enough though. We read the history lesson included with this recipe aloud while we enjoyed our dessert.
Each of the recipes are followed by a little more information and a "side dish" of extra info about the time period. My history lovers have found each lesson very interesting. The book also includes kitchen tips and a history review. The book begins with an introduction that includes a timeline of 1607-1789. The index and glossary are great additions to Eat Your U.S. History Homework. This would be a great resource to use in conjuntion with an early U.S. history course or as a unit study. My kids want to make all 6 recipes! Now if they just wanted to clean the kitchen....
Find out which Ann McCallum books other Crew members reviewed:

Also look for Eat Your Science Homework and Eat Your Math Homework by Ann McCallum.