Demme Learning
now offers Math-U-See
Digital Packs
, and we got access to one to review! Apple is almost finished with Pre-Algebra, so we selected the
Algebra 1
digital pack. The kids and I love Math-U-See, and we were all excited to see their latest offering. Apple is nearing the end of Pre-Algebra, so it wasn't much of a stretch for her to work on Algebra 1 during this review period.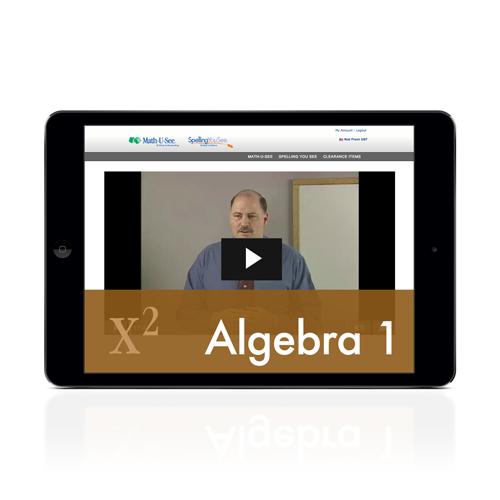 If you aren't familiar with Math-U-See, it is a video based math program. Each week students watch a video with Mr. Demme teaching a math concept. The levels are based on total mastery. Students completely master addition and then move on to subtraction and so on. Math-U-See encourages the use of manipulatives to fully understand the concepts that are presented. Each lesson begins with a video and then students have up to 8 worksheets and a test they can complete. It is recommended that students completely master the concept before moving on to the next lesson.
In the past, all levels have required a DVD, a teacher's manual, and a student workbook. Now Math-U-See has introduced these Digital Packs. Digital Packs are available for each level, and they replace the DVD and the teacher's manual. Many levels also use manipulatives. The original set of manipulatives comes with colorful plastic blocks. The new Digital Pack gives you access to an online version of the manipulatives.
The link to this special online feature can be a little tricky to find. It is located on the right sidebar but looks like a title rather than a link. Once you click on it you get a page similar to what you see above. That page allows you to work with digital manipulatives on a grid or white page. You can even write or draw on the page! It also includes special features for fractions, decimals, and exponents. I had fun getting in and trying out all the features. Apple has not needed the manipulatives in the lessons she has been working on in Algebra 1.
It takes a few steps to access the Digital Pack. You must login on the Math-U-See website and then click through "My Digital Packs" link. Then you access a drop down menu to select the level you need. After that you select the lesson you are working on through another drop down menu. Then your student can watch their video lesson. There are also links along the right sidebar for a lesson summary, lesson solutions (that seems very tempting to have those right there!), and test solutions.
We have enjoyed the Digital Pack. Apple only tried it on our desktop computer, but I understand it is compatible with several different platforms. I think the Digital Pack would make it much easier to take Math-U-See on the go. It also would take away worries about lost or scratched discs. One drawback is that a subscription to a Digital Pack only lasts for one year. If your student needed longer than that to complete the level then you would need to repurchase. Apple enjoyed watching her videos on the computer. I like the idea that you can't step on digital manipulatives, and they can't get lost!
We have used Math-U-See for about 6 years. It is our base math program. Both kids have excelled using it, and they both enjoy it (most days)! I think the Digital Packs are a step in a good direction. An online program would be easier to update than a paper one. I typically still enjoy the good old pen and paper approach to most subjects but this has been a great review item for us. I do wish there was a dedicated link to take the student straight to the login page. That would make it easier. All in all, I think this is a great product that would work well for many families.
See what other members of the Crew thought of Demme Learning:

Facebook:
https://www.facebook.com/mathusee
Instagram:
https://instagram.com/mathusee/
Twitter:
https://twitter.com/mathusee
@mathusee #​mathusee #homeschoolmath​ #hsreview
YouTube:
https://www.youtube.com/user/mathusee