EdTechLens
gave us the opportunity to use their
Rainforest Journey
to review for the Crew. This e-course is designed for an online course and is offered in grades K-5. Speedy has been working on the 3rd grade level, and in a few short weeks he's made it to the end of unit 2. We have received a one year access to the course.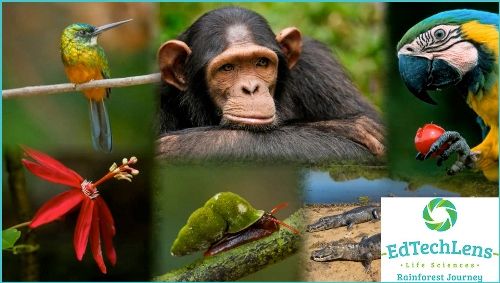 There are 34 lessons split into 5 units. The lessons are read and watched online, and then each one has a review page that can be printed. Each lesson is short and can be completed in a day. The lessons include illustrations, vocabulary, and information from scientists and naturalists. At the end of each unit, there are 3 assessments split into "Depth of Knowledge", "Open Ended Assessment", and "Factual Assessment". These assessments can be printed or can be taken online.
The bright, colorful pictures have really drawn Speedy into the program. He's also enjoyed the included videos. He watched a video of a gibbon communicating over and over. Since we completed a Botany study earlier this year, Rainforest Journey has been a great complement to that. EdTechLens presents science in a secular manner, but so far we haven't heard or read too much in the lessons that conflicts with our faith. Speedy has been able to follow through this program mostly on his own. The written portions of the lessons include an option to listen to it being read. While the words are well within his reading capabilities, he elects to listen to them while he studies the pictures and charts.
The lesson review worksheets are short and easy to print. A few have included pictures that are meant to be in color, but I print everything in black and white. Many of the questions are intended to be answered in full sentences, but since we've used this as a supplement I have allowed him to give short phrases as answers. I'm using the worksheets just to be sure he is paying attention to his lessons. If you wanted to use this course as a basis for a science study for a school semester or year, it would be easy to add in books and videos to beef it up. Then you could require full answers on the worksheets.
Speedy has enjoyed this study and many times he has called his sister to look at a picture or video. My husband and kids are very "science-y", and I've heard them discussing information from the lessons in the evenings. Since I am not science inclined, courses like this give me some relief as a homeschool mom. I appreciate that they can learn science in a variety of ways that overcome my lack of science interest.
Most of the website is very well organized. When you sign up, you have a parental login and your students are assigned a login name. It is very easy to monitor progress through the progress bar across the top of the course outline page. A checkmark is put on completed lessons. I never found answers to the lesson reviews. The answers are available for the quizzes (assessments). The course keeps a grade for the student based on those assessment scores.
Speedy has been working on the Rainforest Journey four times a week. He will complete the course in a short amount of time at the current rate. Again, if we were using it for a full curriculum or semester, I'd add in videos and books to complete each lesson. Since we have used it as a supplement, it is just right.
Speedy has enjoyed this e-course. He likes the pictures and the videos. The workload is light which makes my 3rd grader quite happy. I think the course has some merits. The videos and pictures were also my favorite part. I consistently felt like I wanted more from the program. I wanted it to give more information, to give even more pictures and videos, and to offer more worksheets and suggestions. I do think it showed Speedy things he might not have seen or heard otherwise, and since he is enjoying it that makes me happy!
Read reviews from other Crew members:

Check them out on social media:
Twitter:
https://twitter.com/edtechlens
Facebook:
https://www.facebook.com/edtechlens
Pinterest:
https://www.pinterest.com/edtechlens/
Google +:
https://plus.google.com/+Edtechlens
LinkedIn:
https://www.linkedin.com/company/edtechlens