This post contains affiliate links.
Grapevine Studies
sent us
New Testament Level 2: Birth of John to Jesus' Ministry
and
New Testament Overview Part 1 Level 3: Birth of John to Jesus Ministry and New Testament
along with a teacher's manual to review for the Crew. We did a review of the
Grapevine study Creation to Jacob
back in the fall, and it was a big hit. The kids were both excited to start another Grapevine study.
Grapevine Studies are a very unique way to study through the Bible with children of various ages. This New Testament Overview Part 1 study is available in 4 levels. Speedy has been working through Level 2 (ages 8-10), and Apple is working through Level 3 (ages 10-13). The levels correspond so I'm really only teaching 1 lesson, and they are both working through their own study. This particular study from Grapevine focuses on the time period from the birth of John to the ministry of Jesus in 13 lessons.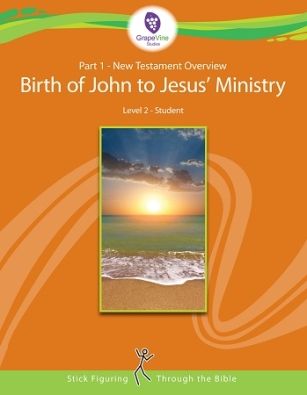 This Bible curriculum can be split up to work on daily or weekly. This time I elected to have the children work on this study once a week on Wednesdays. Sometimes we did it during our regular school time and some weeks we had a personal study on the Wednesday evenings that we weren't at church. I think there are benefits to both daily and weekly studies. If you follow the Grapevine recommendations, you will accomplish the same amount of work no matter which method you choose.
The first time you use a Grapevine study, it can feel a little confusing because it so different from other Bible studies for kids! The first lesson of the study fully focuses on making a timeline. This timeline will give your kids an overview of the lesson, and what they will be studying. The timeline is made using stick figuring. Basically, you are drawing little stick figure pictures to go along with each part of scripture that you are studying with the kids. I am no artist. Seriously. Even I can make these stick figures work. One of my kids is very artistic and immensely enjoys drawing. The other is the opposite. However both kids really like doing this stick figure method as we go through the lessons. The teacher's manual showed me exactly what to draw. I drew it on a whiteboard, and then the kids made their own versions on their worksheets.
After the first lesson with the complete timeline, the rest of the lessons follow an easy pattern. As the teacher you will pray and study the verses before presenting the lesson. No worries, these are short passages broken way down into simple pieces of scripture. For example, the lesson we did last week covered Luke 2: 40-50. Just ten verses for the whole week's worth of lessons. No sweat! So you go over the verses with the kids and show them the stick figures to put in their boxes. Then there is a short list of questions at the end of the lesson. Sometimes level 3 students will mark a location on a map. The sheets the kids fill out for the different lessons are very similar. Each week they also have a memory verse to write. Since we are working on doing a regular memory verse together each week, I've only required mine to memorize the ones I've picked as our weekly verse.
We received digital e-books for New Testament Overview Part 1: Birth of John to Jesus' Ministry in levels 2 and 3 and a digital teacher's manual. I printed off the entire study for each child. Then I punched holes in them and gave each one their study in a folder with brads. I did not print off the teacher's manual, but I think I will do that for future Grapevine studies. Several times I wished it was printed so I could move around the room. Also, if it was printed we could take it with us if we were on the go. So the needs for this study are simple: ink and paper for printing and a folder. You will also want a whiteboard to draw your stick figures and different colored dry erase markers are helpful. It is recommended that the kids use colored pencils for their drawings. Sometimes Speedy chooses to use crayons instead.
Grapevine Studies
are a great way to incorporate Bible study into your homeschool or family time. While they are perfect for families with multiple aged children, they are just as great for a family with only 1 child. These overview Bible Studies make it easy to do an overview of specific portions of the Bible, or they will work as a starting point for deeper lessons. The New Testament Overview Part 1 was just right for our family as Hubby and I are working through the New Testament with our Sunday School class. Our kids like studying what we are studying.
The Grapevine website has loads of information to help you select the right study and levels for your family. They offer overview studies like this one as well as several topical studies.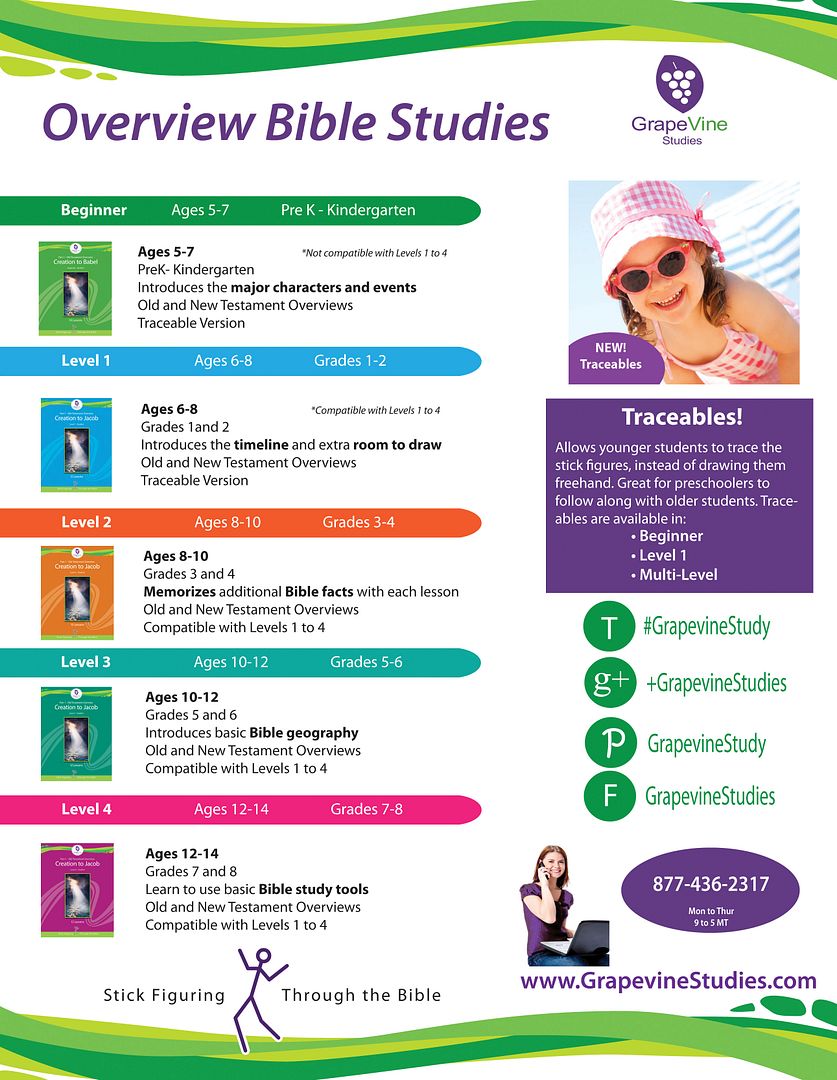 See what other Crew members have to say about Grapevine Studies:

Connect on social media:
Facebook:
https://www.facebook.com/GrapevineStudies/
Twitter:
https://twitter.com/GrapevineStudy
Pinterest:
https://pinterest.com/GrapevineStudy