Talking Fingers Inc.
recently gave us a one year subscription to their
Read, Write & Type
online program for review. This web based curriculum encompasses vocabulary, spelling, and keyboarding into short online lessons. With a phonics base, many areas are covered at one time. This curriculum is recommended for 6-9 year olds.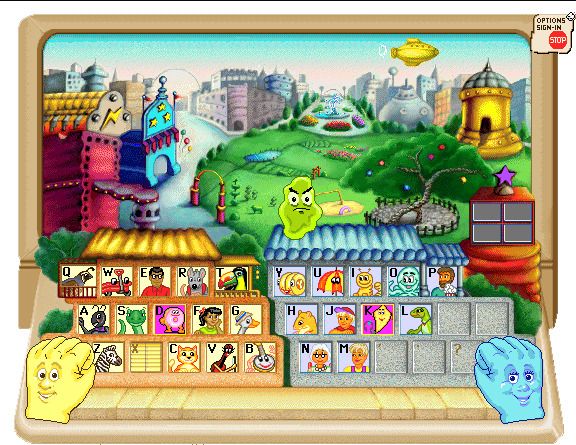 To use the program, I first needed to set up a parent account and then a child account. Each account uses its own login and password and the screens are quite different. The parent's pages can be a little difficult to navigate, but they contain quite a bit of information. There are options to limit days and times your students can log-on, you can set a pass/ fail percentage, and you can track the progress of your students from these pages. While the kids don't see a specific grade on their page, the parent page does show a score for each portion of the 10 lessons. We used this program exclusively through Google Chrome, and we really didn't encounter any issues. The graphics work great, and the sound was always clear.
In contrast, the student pages are very easy to navigate. Speedy was able to sign in and jump right into the game. The game is actually 40 lessons divided into 10 levels. There is no clear beginning and end to each lesson so Speedy started out doing 4 lessons in one setting, and he continued that pace through the end of the program. The first time he played I think he was waiting on it to tell him it was a stopping point. Instead it moved into a second letter so he just kept going. It would be easy to slow this down to one lesson per day rather than his 4 per day pace.
The lessons are broken into letters and blends. Each one has 9 steps and the kids are doing the same steps or mini games for each letter. The games pit the kids against "Vexor". This was Speedy's first real experience with typing, and I think he learned a valuable amount through the program. In fact when we first received the product, he wasn't sure if he'd like it or not. In the end he did enjoy it. I hope to get him involved in another typing program soon so he doesn't lose what he learned doing this one. He was able to finish the entire thing in just a few weeks since he was working through 4 lessons in one setting.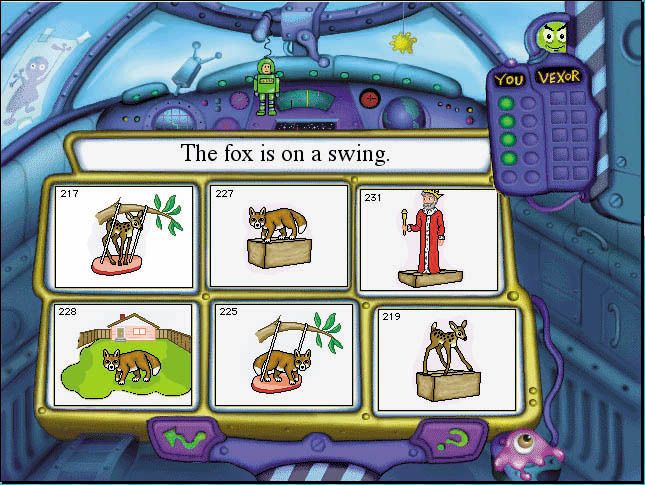 Every 4th lesson, students will receive a certificate to reward them for their progress. Speedy wasn't interested in printing them, but he did enjoy watching them show up on the screen. He also felt like the certificate pages helped him keep up with his progress.
Speedy (8) had this to say about
Read, Write & Type
:
"There was one game that looked like a movie theater. On that game you press the letter you're working on if the picture that pops up has that letter in it. If it doesn't, you press the space bar. In another game, it was at a fountain, and you had to type certain words as fast as you could so it didn't get wet. At the playground game, you had to type a word over and over until you get to the end. I liked to click on the people so they would show you what they do. Sometimes whe you got sucked into a spaceship you had to play a game. I think other kids would like this game, especially kids who like animals because there are a lot of animals on it."
I often listened while he played. The instructions were all verbal and very clear which made the games easy to play. The words that the student needs to type are fairly short, but there are some multi-word sentences in some of the games. The program definitely feels more like a game than like a curriculum so it wasn't any struggle to get Speedy to play. I think this is a great program to get early elementary kids to type the correct way. Speedy is very impressed with my keyboarding skills so I hope he will want to continue to learn proper finger placement and technique.
See what other members of the Crew thought of Read, Write & Type:

Connect with Talking Fingers on Social Media:
Facebook:
https://www.facebook.com/TalkingFingers/
YouTube:
https://www.youtube.com/user/talkingfingersvideo
Twitter:
https://twitter.com/ReadWriteType/with_replies
@readwritetype