I have a great review of 4 books brought to you by Carole P. Roman and

Awaywegomedia.com. I received
If You Were Me and Lived in...the Middle Ages (An Introduction to Civilizations Throughout Time) (Volume 6)
and
If You Were Me and Lived in...the American West (Volume 7)
. We also got a copy of
If You Were Me and Lived in...Colonial America (An Introduction to Civilizations Throughout Time) (Volume 4)
and
If You Were Me and Lived in...Ancient Greece (An Introduction to Civilizations Throughout Time) (Volume 1)
. These paperback books are less than 100 pages and include loads of fun illustrations.
We started with
If You Were Me and Lived in...The American West
(because we are rebels who don't need to go in chronological order!). This book tells a story about traveling to Oregon in a covered wagon. It reminded me of my favorite computer game from elementary school! This fictional story is based on historical information about families that traveled west in the 1800s. The tale gives broad information on the time as well as some fun little facts about daily life on the trail. At the end, there are short biographies on some real people from that time.
Next we read
If You Were Me and Lived in The Middle Ages
. After doing a special Middle Ages study a couple of years ago, both kids gravitate towards information from that time. At 97 pages, this is the longest of the four books. The illustrations in this book are by Mateya Arkova, and they are striking. In mostly pastel colors, they really stand out and leave some details open to the imagination. I think this book gives more actual information on the time period and includes a lot of vocabulary.
For those two books, we read them together and then I used questions from
Carole P. Roman's blog
to turn some fun books into some learning time. We continued our adventures by reading
If You Were Me and Lived in...Colonial America
which I
reviewed in depth
a few months ago and
If You Were Me and Lived in...Ancient Greece
. The latter was also illustrated by Marteya Arkova and includes similar pastel pictures. It is 54 pages long and follows the same pattern of giving historical information as well as clues into daily life. It includes a glossary and a listing of some of the Greek gods and goddesses.
All 4 of these books are a great way to spark an interest in specific historical time periods. Every time my kids read a book like this, they spend the next few months researching more information about the time period on their own. This is some of the very fun homeschool learning that takes place apart from regular "school time". Carole P. Roman offers several other books in this series and she has written many other children's books as well. She has a popular series of If You Were Me and Lived In...books that focus on other cultures rather than time periods.
This year I have tried to move away from history as something the kids do together. I was excited about having them work independently on some history curriculum I thought they would love. It hasn't gone as expected, and we've struggled to find a good "resting" place this school year for history. These books were timely. I let both kids read them and then the one that needed a little more history work did the bulk of the questions I found on the author's blog. This worked out well to give us some history for a few weeks. While the books would be pricey to buy all of them for one school year, purchasing a few at a time to use to begin a unit study or curriculum on a time period is certainly a worthwhile idea.
Find out which books other Crew members received: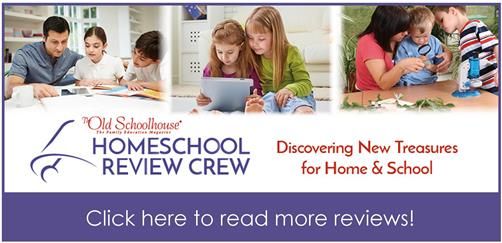 Connect on social media:
Facebook:
https://www.facebook.com/CarolePRomanAwardWinningAuthorAndBooks
Pinterest:
https://www.pinterest.com/caroleproman/
Good Reads:
https://www.goodreads.com/author/show/5854108.Carole_P_Roman
Twitter:
https://twitter.com/caroleproman